Update: Respelled is the newest update to the core rules.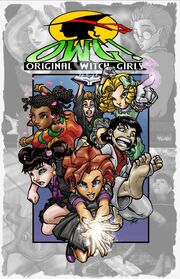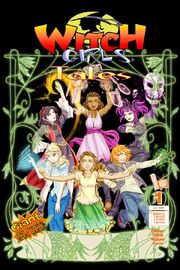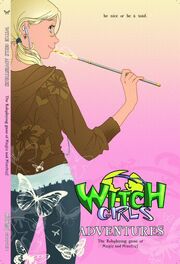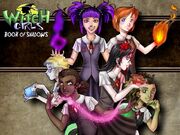 Welcome to the Witch Girls Wiki
Edit
This wiki is focused on exploring the "Witch Girls" fictional universe established by the "Witch Girls Tales" comic series and the "Witch Girls Adventures" roleplaying game, and any other related media.
Special:Chat can be used to discuss the game or to play it. Perhaps a Dice Bot can be acquired later.
This is to consolidate images and basic information about the universe and characters. While the comics/games can be used in a limited way to build articles (mostly in regard to terminology) the actual rules, statistics, comics, etc should not be uploaded here.
All that is to be copied is the promotional materials which have been given out freely to begin with to promote sales of the game or comics, and these are accompanied by links to their source so that people can see they are provided for free and how they can buy the rest if they want.
The intent is to document the complex universe of characters, locations, memes and history associated with the witch girls empire.
Looks like Heroic Multiverse has another team using this title too! The term Witch Girl has actually shown up in a lot of media, included some in the Videos section.
Check out Wikipedia:Witch-girl for more information.
DriveThruStuff
Edit
Free Sample Previews
Edit
ComicVine
Edit
Interesting wikis
Edit

Know any other interesting wikis? Feel free to add them!
Community content is available under
CC-BY-SA
unless otherwise noted.